A powerful storm is already creating quite a mess in parts of the southeastern US today, and will make its way up the east coast tonight, bringing heavy snow to NYC and southeastern NY.
All of the models are in pretty strong agreement as to the path and timing of this storm as it progresses north and east. The UKMET is the only major deviation, with a more easterly track, which would spell lighter snow accumulations for NY. Most of the other models are calling for a big QPF of 1-1.2" over NYC, which will equate to 8-14" of snow by Monday afternoon. Long Island is likely to see even more, with an estimated 12-18" of snow, since it will be in the more intense area of precipitation. This will make it a real headache for people to get anywhere in NYC and Long Island.
Here are the NAM and GFS 24-hour forecasts for 6-hour QPF (to fall just before the morning commute on Monday):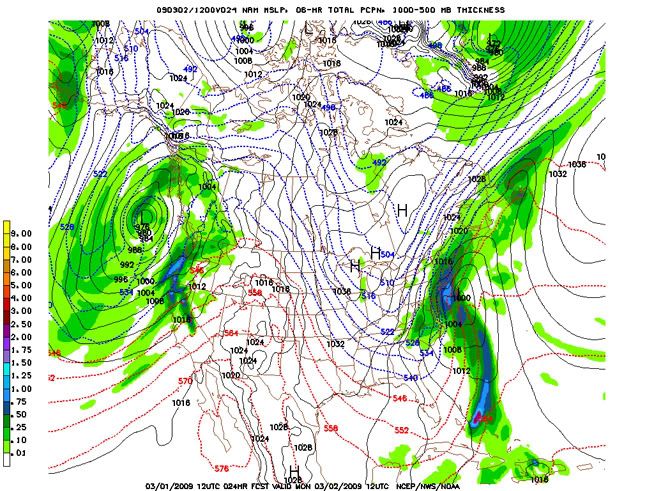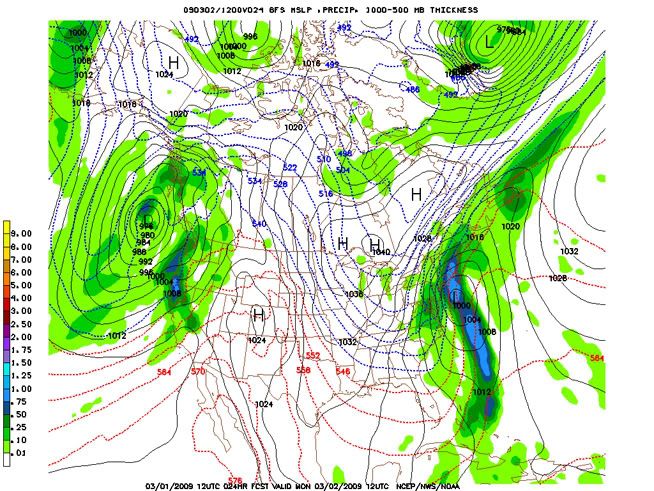 This storm is going to inundate much of the east coast, including the major metropolitan areas of Washington, D.C., NYC and Boston. It's the storm that's been long in the making, and many people were sure/hoping it was going to come. I have a feeling a lot of people are going to stay home on Monday.
Here's a little awesomeness from Atlanta, GA:
KATL 011752Z 32015KT 1/4SM R09R/3500V4500FT +TSSN FG OVC004CB 01/00 A2972 RMK AO2 TSB37 SLP067 OCNL LTGIC OHD TS OHD-ALQDS MOV SW 4/001 P0013 60060 T00060000 10067 20006 51013
Heavy thundersnow, with an inch of snow falling in that hour!
The snowfall amounts quickly drop off in NY as you move north and west. Albany is on the outer fringe of the larger snowfall area, and is expected to receive 2-5" from this storm. Parts of western and central NY will see some lake effect snow on the order of 1-3" as the storm moves off the coast. Lake effect accumulations are light because the winds will be northerly, which gives the air less time to gather moisture from Lake Ontario and Lake Erie.
The rest of the work week looks to be pretty fair in NY, with a chance of mixed precipitation on Friday and Saturday.
UPDATE:
Following the trends of the newer model runs, I'm upgrading the Albany snowfall total to 4-6". Isn't nowcasting fun?